Taupo Street View
Use the - and + on the first map to zoom in and zoom out.
Drag to position on the area you are interested in.
Drag the yellow peg man figure and blue lines will appear on streets that have a Street View.
Drop the yellow peg man figure on a blue line to get a Google Street View of that street.
The street view is shown beside the map or below the map.
Taupo Central Map
Taupo Driving Directions
Taupo Maps
Taupo Satellite View Maps
Tour Taupo

Tour Taupo Area
Gables Lakefront Motel
- Motel.
Located across the road from Taupo's main beach, Gables Lakefront Motel offers stunning lakefront views, free Wi-Fi and...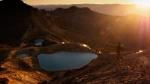 Sunrise Tongariro Alpine Crossing Guided Walk
- Nature Walk - National Park.
Starting from $295.00 per person
.
With the Milky Way at your fingertips and shooting stars streaming in the clarity that only the pre-dawn can...