Taupo
Taupo
Sunk into a stunning volcanic landscape and surrounded by bush clad mountains is New Zealand's largest freshwater lake, Lake Taupo. The township of Taupo can be found on the banks of a large bay at northeast part of the lake, where it discharges to the mighty Waikato River.
The river flows over one of New Zealand's most spectacular waterfalls, Huka Falls, a short distance north of the town. The thundering Huka Falls is New Zealand's most visited natural attraction. More than 220,000 litres of water tumbles over the cliff face per second!
Taupo township is located right on the edge of the lake, and many hotels offer panoramic views over the lake to the snow-capped volcanoes of Tongariro National Park. Dine on the lakefront on a summer's evening or have fish and chips on the shore just like a local. Take in spectacular views while watching the sun sink behind the mountains.
A few minutes south of the Lake is Tongariro National Park. Gifted to the people of New Zealand by the Ngati Tuwharetoa tribe in 1887, the park is one of only a handful of sites in the world to be given dual World Heritage status for its cultural and natural importance. Experience the dramatic and eerie scenery with tramps through the park ranging from 2 hours to 6 days. Cover desolate fields of volcanic ash and scoria, rolling tussocklands, glacial valleys and tranquil lakes.
Taupo is a centre of volcanic and geothermal activity and hot springs suitable for bathing are located at several places in the vicinity, and stunning geothermal attractions litter the surrounding area. The Taupo Volcanic Zone stretches from Tongariro National Park all the way to White Island, and here you'll see spectacular steaming cliffs, geysers, boiling lakes, bubbling mud pools, floating rocks and beautiful volcanic plateaus.
The lake and its network of rivers offers a true wild trout fishing experience, bringing anglers from around the world. Skiers and snowboarders flood the region in winter time, drawn to Mt Ruapehu, with New Zealand's largest ski area. The region is also home to a number of adventure activities including sky diving, jet boating and paragliding, everything to satiate that lust for adventure.
---

Featured Taupo Events
---
Tour Taupo

Tour Taupo Area
Marinaside Villa - Taupo Holiday Apartment
- Apartment.
Set in Taupo, Marinaside Villa - Taupo Holiday Apartment offers accommodation with a private pool and lake views. The...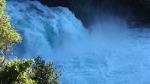 Taupo Sightseeing Tour
- Maori - Taupo.
Starting from $78.00 per person
.
Bad weather day on the Mountain? Looking for something to do? On your own? Want to see some cool things?
Join us...